USB Stick Pen Drive 64GB USB 3.0 - UME3 Care - Antibacterial
These UM3 Care GoodRam USB flash drives are equipped with an antibacterial housing that guarantees safety and hygiene.
| | |
| --- | --- |
| Brand: | Goodram |
| Article number: | UME3-0640CRR11 |
| EAN: | 5908267961452 |
| Delivery time: | Ordered before 17:00 tomorrow in the house or pick up directly in Venlo |
Free Shipping for orders above € 40,-

Cool Gadgets and Gifts

Ordered today before 17:00h, shipped today

Questions? Call us: +31(0)77-792 00 00
Information
The Goodram UME CARE USB Sticks are made for those for whom safety and hygiene is important, for example in the office or in environments where people work with patients. Thanks to Biomaster technology, the product housing contains silver ions with bactericidal properties. As a result, the product is fully protected against bacteria during the entire period of use. The antibacterial properties of the UME CARE USB Sticks are guaranteed by laboratory tests. After 24 hours, the micro-organisms present on the UME CARE surface are reduced by up to 99%.
Features UME3 Care USB Sticks
• Housing with antibacterial properties
• Use of silver ions in the housing
• Design and production in Poland
• Splash-proof
• USB 3.0 interface
• Lifetime Warranty
Highest quality = lifetime warranty
Goodram manufactures the ODA USB Sticks using only the best components and during the manufacturing process the product goes through multi-stage testing and strict quality controls. As a result, ODA is covered by Goodram's lifetime manufacturer's warranty.
BIOMASTER technology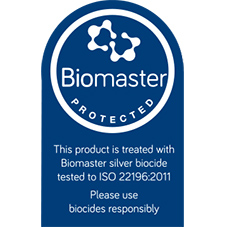 Biomaster has been proven to inhibit the growth of microbes by up to 99.99%. It is based on silver ion technology, recognized for centuries without any harmful effects. Biomaster is a technology that has been tested many times, also according to ISO standards. Biomaster is effective for the intended life of the product to which it is added. It is built-in and does not wear out or leach out. The germicidal agent is odorless and invisible. It does not affect the product in any visible way other than being antibacterial. Biomaster treated polymer can be recycled effectively without complications.
Ready to work

The components used enable read speeds of up to 60 MB/s and write speeds of up to 20 MB/s. Like all GOODRAM USB sticks, UME3 CARE is backed by a lifetime manufacturer's warranty.
Specifications USB Stick Pen Drive 64GB USB 3.0 - UME3 Care - Antibacterial
Brand: Goodram
Storage capacity: 64GB
Interface 1: USB 3.0 compatible with USB 3.1 / 3.0 / 2.0 / 1.1
Read speed: up to 60 MB/s
Write speed: up to 20 MB/s
Dimensions: 55 x 21 x 9.6 mm
Weight (without packaging): 9 g
Compatibility: Windows 2000 SP4 and newer, MacOS 10.5.x and newer, Linux v.2.6.x and newer
The Goodram brand is the only European manufacturer of computer memory.
Reviews
No reviews found
Read or write a review