MacBook Adapter 7-in-1 | HDMI 4K - USB-C - USB 3.0 - USB 2.0 - Thunderbolt3 - SD/TF - MicroSD €37,99
MacBook Adapter 7-in-1 | HDMI 4K - USB-C - USB 3.0 - USB 2.0 - Thunderbolt3 - SD/TF - MicroSD
If you're the proud owner of a MacBook, you'll discover that it doesn't have a memory card reader or HDMI input, or that it lacks 'regular' USB-A ports. Then this ultimate 7-in-1 adapter for your MacBook is the solution for you!
| | |
| --- | --- |
| Article number: | AC-002438 |
| Delivery time: | Ordered before 17:00 tomorrow in the house or pick up directly in Venlo |
Free Shipping for orders above € 40,-

Cool Gadgets and Gifts

Ordered today before 17:00h, shipped today

Questions? Call us: +31(0)77-792 00 00
Information
Specifications MacBook Adapter 7-in-1 | HDMI 4K - USB-C - USB 3.0 - USB 2.0 - Thunderbolt3 - SD/TF - MicroSD
Power/data connections: 2x USB Type C

Ports: HDMI 4K, USB-C, USB 3.0, USB 2.0, Thunderbolt3
Memory card slots: SD/TF, microSD
HDMI 4K*[email protected]
USB-C: Power Delivery 3.0 (100W), data and image transfer, speed up to 10 Gbps
SD/TF Slot: Speed up to 480 Gbps
USB3.0 5Gbps
Dimensions: 110.6mm x 24mm x 17.8mm
Compatibility: MacBook Pro 2016 (13" 2*Thunderbolt3, 13" 4*Thunderbolt3, 15" 4*Thunderbolt3), MacBook Pro 2017 (13" 2*Thunderbolt3, 13" 4*Thunderbolt3, 15" 4*Thunderbolt3), MacBook Pro 2018 (13" 4*Thunderbolt3, 15" 4*Thunderbolt3), MacBook Pro 2019 13"/13.3"/15" MacBook Air 2018 13"/13.3"
Increases the functionality of your Apple equipment
Due to the progressive miniaturization of hardware, more and more new laptops and notebooks have an increasingly limited number of ports. Thanks to the 7-in-1 adapter, you can connect more devices to your computer. This allows you to easily connect your laptop to a TV, USB stick or devices with a USB output.
4k Quality
The adapter works in Plug&Play mode, so no additional drivers are required. It supports transmission of the highest quality image and sound up to 4K (3840x2160) and backwards compatibility means it can even be used with older equipment. The adapter is compatible with Samsung DEX (with simultaneous connection of HDMI and USB-C charger) and Huawei Easy Projection.
Compact and elegant
The unique design allows simultaneous data transfer and charging of other devices connected to the adapter. The durable aluminum housing and classic design make the adapter suitable for all equipment - it's easy to carry and use when you need it.
Features
MacBook Adapter 7-in-1
HDMI
USB-C
USB 3.0
USB 2.0
SD/TF card slot
microSD card slot
Lightning Strike3
Dual USB-C input
List of ports
4K HDMI output
USB 3.0
USB 2.0
SD/TF and microSD card slot
USB-C port
signaling diode
Thunderbolt3
2x USB-C connection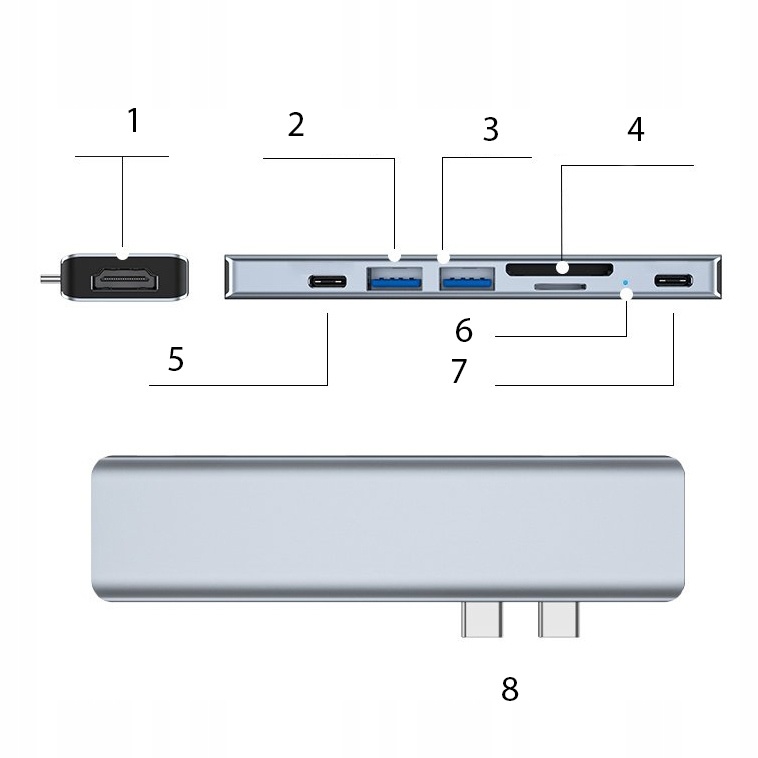 Benefits of the 8-in-1 MacBook Adapter
acts as a memory card reader
fast data transfer
possibility of simultaneous charging and data transfer
multimedia support in 4K resolution
compact size
Reviews
No reviews found
Read or write a review